Theory in Practice (TiP) holds a regular social event on the last Thursday of each month.
Information
This is an online event.
Date: Thursday, October 28, 2021
Time:

6:00 - 8:00 p.m. Mountain Time
5:00 - 7:00 p.m. Pacific Time
8:00 - 10:00 p.m. Eastern Time

Zoom link: https://utah.zoom.us/j/97833823204

Meeting ID: 978 3382 3204
Passcode: 727754

You may join and leave at any time.
Games to play
1. Codenames
Codenames is a social word game with a simple premise and challenging game play. We will use [the official website][codenames] developed by Czech Games Edition. You do NOT have to create an account.
How to play
Click on the room link shared in the Zoom chat.
Enter your nickname.
Pick a team (Red or Blue).
Pick a role (Operative or Spymaster).
2. Pictionary
Pictionary is a multiplayer drawing and guessing game. One game consists of a few rounds in which every round someone has to draw their chosen word and others have to guess it to gain points.
We will use skribbl.io for playing online.
Settings:

Rounds: 2
Draw time: 70 seconds

Example (picture taken from here)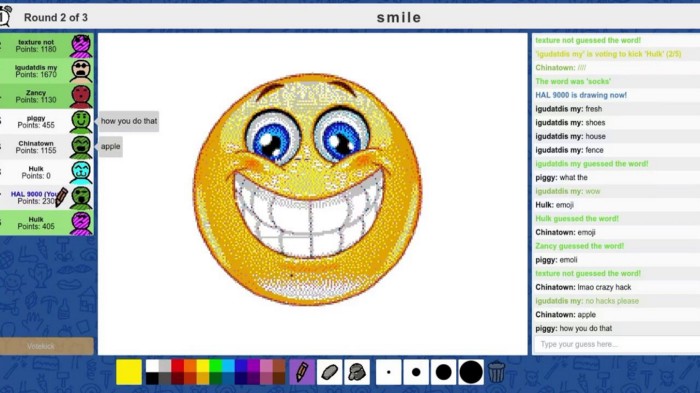 How to play
Join the game

Click on a game link provided in the Zoom chat.
Enter your nickname.
Customize your avatar if you like.
Click on the Play button.
Wait until the gamemaster (Yo) starts a new game.

During the game

In your turn to draw:

Choose a word from three options.
Visualize that word in the limited time. Do not draw any English characters.

In someone else's turn:

Type your guess into the chat.
Be quick, the earlier you guess a word, the more points you get!
How to play
Log into Board Game Arena.
Let us know your account name. Then we will invite you to a private game.