Mr. Bumpy's Unofficial Home Page
Squishington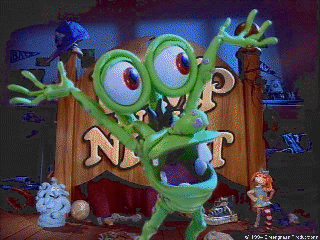 Molly Coddle

Mr. Bumpy
---
Danger Productions's Bump in the Night was created by David Bleiman (davidbli@yahoo.com) and Ken Pontac. Many thanks to David for the high-quality pictures.
Originally on ABC, the first two seasons aired for a while on the TOON Disney cable channel, but now the show seems to be completely off the air. A third season was produced, but it's not slated to air anywhere.
---
APR-20-2010: The first two season's episodes are finally available on DVD!
---
mflatt@cs.utah.edu