My book: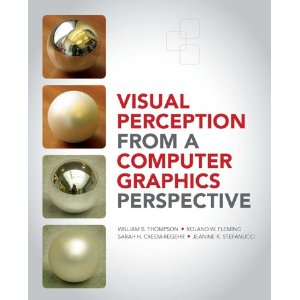 W.B. Thompson, R.W. Fleming, S.H. Creem-Regehr, and J.K. Stefanucci,
Visual Perception from a Computer Graphics Perspective
, CRC Press, 2011.
Teaching
I am no longer accepting new graduate students
Research:
Professor Thompson's primary research interest is in the area of computational vision, with an emphasis on problems involving the determination of spatial organization.
Recent research group publications
Google Scholar profile
Visual Perception and Spatial Cognition

This research aims to understand the information and processes used in spatial behavior, using a multidisciplinary approach involving psychology and computer science in the service of both basic and applied research goals. Part of the research focuses on increasing the effectiveness of computer graphics in conveying information about the three-dimensional world. A significant portion of the work involves immersive virtual environments, both to understand perceptual performance in these devices and to use them as a tool to approach basic research questions in perception and action.


Designing Visually Accessible Spaces

Research ultimately aimed at provide tools to enable the design of safe environments for the mobility of low-vision individuals who may need to operate under low luminance and other visually challenging conditions. This is a multi-university, multi-disciplinary effort involving clinical low vision, visual science, perceptual psychology, and computer graphics.

Previous work:
Other (potentially) useful/interesting information:
---